The 14th annual public appeal Tehlicka (Brick) 2019 was enrolled by MoI SR to the registry of public fundraisings 7th November 2018 under the number SVS-OVS2- 2018/34156.
Gross earnings of the collection represent 137,141.07 euro. The costs of the collection were 21.23%. Net gain was 107,409.57 euro. The donations will be used to help to repair houses damaged by floods in the Indian province Kerala and to rebuild completely destroyed ones; also to maintain the living of the poorest families and the families which were the most affected by floods. The project will support families who are economically weak and who are living under the poverty level. NGO SAVIO is cooperating with Salesians of don Bosco who are present in Kerala from the beginning of 20th century.
Direct participants of the collection were 95 kindergartens, primary, secondary and high schools and 22 youth and other organizations, 13 parishes and 2 companies all over Slovakia. The advertising and educational materials were sent to all participants, not only as the collection campaign, but also in order to support education and awareness of aid to developing countries. The schools were running, with our consent, their own activities to support the goal of the collection.
We thank all participants.
Related stories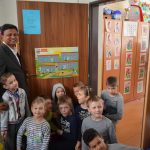 A Visit from Kerala
In the first week of April, Joy Nedumparambil from Kérala, India, accepted our invitation and came to visit Slovakia. He...